The Madeover Podcast Episode 001 From Hot Mess To Made Over With Mike Young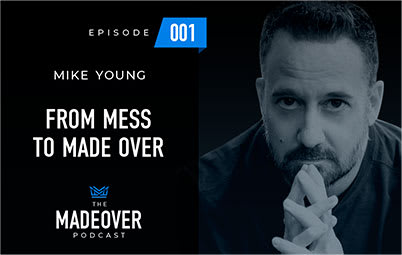 In this episode, Mike shares part of his story and the vision for the podcast and why he's so committed to sharing the stories of others who's been able to overcome obstacles to get the business and life of their dreams.
Building a business, branding, marketing, sales and entrepreneurship can be rough in the beginning, but it doesn't have to be.
In the summer of 2008, Mike found himself jobless and completely broke; just twelve months earlier he was a millionaire. His mindset, focus, productivity and attention were shattered, the struggle was real. He's now known as "The Makeover Master", and he's on a mission to show you that it's never too late to transform your business and life to turn things around.
After almost a decade of creating 50+ brands, investing $200,000 and spending well over 10,000 hours as an entrepreneur, Mike found himself on the verge of giving up in 2017. He had taken all the courses on marketing, advertising and branding. He had read all the books, purchased all the software and was still fighting to make everything work. In less than 15 months he was able to turn it all around and this podcast shares and breaks down the psychology, business breakthroughs and personal transformation stories of others who have done the same.
IN THIS EPISODE, YOU WILL LEARN:
The purpose and vision of The Madeover Podcast
A part of Mike's own personal journey on how he became The Makeover Master
What you can expect on future podcast episodes

Connect with Mike:
About The Madeover Podcast
The Made Over Podcast shares and dissects inspirational personal journeys of transformation for striving entrepreneurs who are trying to create the business and life they deserve. The host Mike Young shares his inspiration for starting the podcast in episode #1.
Join him and other hungry entrepreneurs to learn how others have gone from struggling and striving, to inspiring success. Listen to their stories and how through commitment and resilience they were able to overcome all obstacles to create the business and life of their dreams.