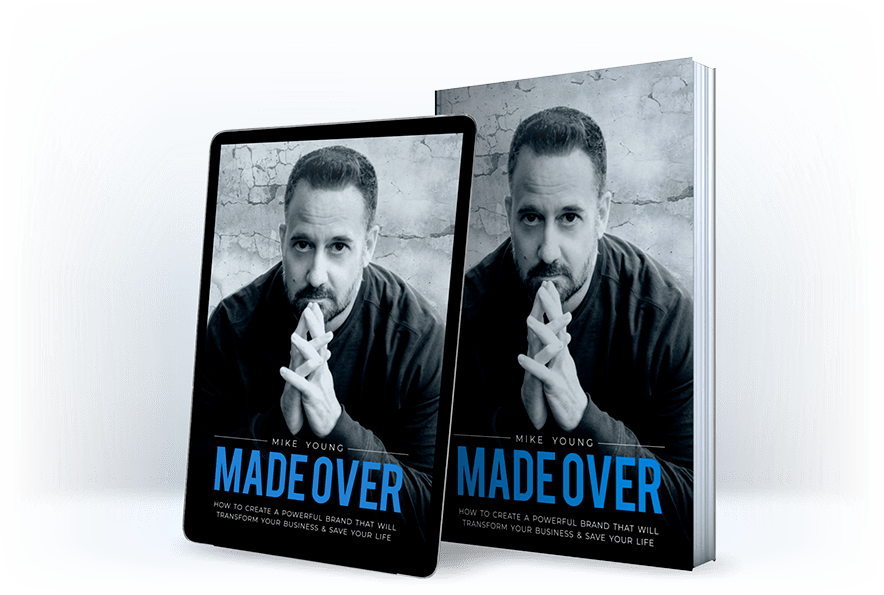 In addition to helping his clients makeover their business to get more leads and sales in "The Mentorship Makeover Business Growth System" and "A$AP Strategy Session", Mike's made over every aspect of his own life. Including his mindset, business systems and daily routines. His straightforward, implementable lessons learned will allow you to bypass the many missteps he made along the way and he's finally sharing it all in this book.
If you've taken all the courses, read all the books, bought all the software and are still struggling because your business just isn't working and you can't figure out why, this book was written for you.




If you have a business but things aren't really working and sales are slow...
Join Our Free Facebook Group And...
#AskTheMakeoverMaster
Simply text your questions to Mike Young, The Makeover Master at (401) 371-6453
Get specific answers to your questions, breakthrough insights and cutting edge strategic advice on how you can get more leads, sales and business success.
WHAT'S YOU'LL INSIDE THIS FREE COURSE:
How To Increase Leads and Customers
To Quickly Turn Things Around When Your Business Is Struggling and Sales Are Slow
The 3 Primary Issues
Why Sales Stop & Businesses Get Stuck & Struggle, So You Can Fix Them To Increase Leads and Sales For Your Business
The 4 Underlying Causes
That Cost You New Prospects, Leads & Sales So You Can Begin Fixing Them, Starting Today!
The 9 Success Factors
That Determine How Quickly You'll Be Able To Turn Things AroundYour Speed
The 3 Most Common Traps
So You Can Avoid Them & Not Waste Your Time, Energy or Money.
The 8 Forms of Proof
Ranked In Order So You Know Exactly WhatYou Need To Display To Convert More Prospects
I see so many businesses struggling each day to get prospects' eyes on their stuff. Almost at the point of giving up after wasting $$$$'s on complicated funnels and rubbish results. It doesn't have to be that way.
I want you to have my "POP-IN AND POP-OUT STRATEGY" got me in front of 25,000+ prospects per week without spending a penny on ads. I've laid everything out for you here, step-by-step, exactly how I did it and it's something you'll be able to implement starting today!
After my 8.5 years of hellish debt, pain and growing pains (and $200,000+) I invested buying every book and course I could afford, travelling to every seminar and event imaginable trying to get my business to work. (2004-2014 RIP)
After hundreds of guest expert trainings, podcasts, radio and a couple of television interviews…The number one question I get today is…
"If you had to go back to your 2004 self and start over, what would you tell yourself?
I read so much between 2004 and 2014 it still makes my head hurt. I don't regret that time in my life, however, there is a much better way. Simply ask someone who's already done what you are trying to do for help and shortcut your learning curve a million percent.
After all of the books I consumed, I've narrowed my list to the 15 or so most important and why they matter to getting your business to work if it's stuck today. I'm asked all the time on podcasts...
"What are the top books you've read after consuming so many for so long?"
Do you have a community or following of small business owners and entrepreneurs who want to improve their business?
You can add value by having Mike Young, The Makeover Master as a guest expert for a live joint conversation and training on how to increase leads and sales by leveraging proven strategies and controlling your business image ecosystem.
These live conversations are filled with new and deadly effective proven strategies along side step-by-step tactical advice that works.
If you are looking for new ways to add more value to your community or have Mike speak at your next event, with a message they've never heard before, this is for you.
Click the button below to schedule a brief call with Mike so he can answer all of your questions and provide details on all of the specific results you and your group can expect.
Would you like to purchase the event recordings from our event in Scottsdale, AZ?
Over 3 days of content with 50 small business owners, myself and some of the very best industry killers talking about how to transform your business into something you are proud to share with your friends and family.
We share how to earn more money, influence, power, respect and authority by leveraging your business image ecosystem, setting up powerful systems for your brand engine and mastering your mindset.