The Mentorship Makeover Business Growth System
An Opportunity To Work Side-By-Side with The Makeover Master
It's time to stop spinning your wheels, figure out the real reasons why your business isn't working and get direct help from a mentor who can guide you through a personal step-by-step tactical plan, one you can immediately execute, designed specifically for you that will get your business working fast.
Let us help you with our proven system of mentorship, guidance, templates, tools, scripts, training, examples and ongoing support.
This system includes everything you need to immediately end the struggle and confusion, once and for all, so you can finally have a business that attracts your ideal clients consistently, converts more sales and put cash in the bank.

Testimonials
The Fat Loss Coach &
Founder of Jason Goggans Fitness
"This program had already paid for itself after our 90-minute strategy session together. You answered questions I'd been struggling to figure out on my own for months in just a few minutes.
The rest of the program along with your ongoing support and guidance has been an game changer. You are without a doubt, they best and most caring coach and mentor I've ever worked with (and I've tried a bunch!). "
Pro Athlete Movement Expert &
Founder of True Movement
"I watched you speak in Cabo and knew I had to work with you.
OMG, has it been one of the best decisions ever! You have this ability to break down complex subjects in a way I can understand and implement with my business. The first strategy and offer you helped me with paid for the program 10 times over."
Working with you was the best decision ever!
Author, Speaker, Mentor &
Founder of Thrive Forever Fit
"Dude. Working with you took my business and brand to another level!
I knew our relationship was going to be a good one when I had you on my podcast. We are simply cut from the same cloth and have been through all the ups and downs of the business owner and entrepreneurial journey together. The stuff I've learned in a short amount of time has made all the difference."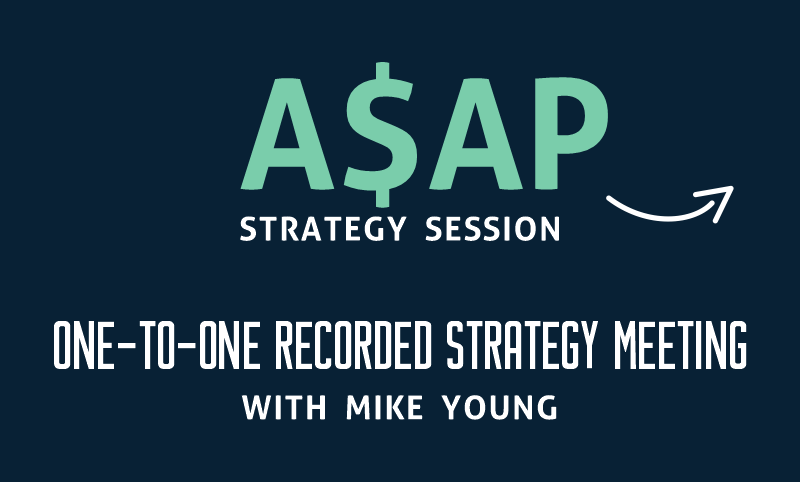 It's time to speed things up by putting down the generic books, courses and seminars to get your business unstuck and working fast.
Mike considers it his life's work and duty to help you avoid the hellish 8.5 years of debt, pain and growing pains (and $200,000+) he spent buying every book and course he could afford, traveling to every seminar and event imaginable trying to get his business to work.
This session is recorded and transcribed to provide you with a customized step-by-step execution plan that you'll be able to immediately implement.

Testimonials
Top-Rated Podcast Host &
Founder of Underdog Empowerment
"I can count on one hand the list of people I've had on my podcast twice. Mike Young is one of those rare people that has an insane ability in business and brand strategy combined with a huge underdog story that I'm proud to call a friend today. I've also worked along side him and hired him for our website. He's the real deal Holyfield.
Your business and brand will be better if you get the chance to work with The Makeover Master."
Host of The Dr. Erin Show &
Founder of Soulciété
"What can I say, Mike truly is The Makeover Master. I've had him on Good Morning La La Land twice as a guest and The Dr. Erin Show.
He's done several trainings for my members and ambassadors inside Soulciété and I've worked with him personally on my multiple businesses. He is as authentic, raw and real as they come and his advice and expertise has been invaluable to me."
The University of Adversity Podcast Host & Founder of Mic-Up Productions
"I've had Mike on The University of Adversity a couple of times and our conversations, his experience and wisdom is on another level.
His strategy, guidance and really his friendship is what helped me launch the UofA podcast and make it the top-rated podcast it is today. Don't hesitate, if you get the chance to work with The Makeover Master, just do it, you'll be glad you did."
A Step-By-Step Customized Execution Plan
Your one-to-one mentoring strategy will cover everything you need to get the business working in your favor and fast. It's a lot of executable ideas, strategies and information to process.
Which is why we record, transcribe and organize everything into this step-by-step tactical document for you.
The Business Growth Execution Vault
A private library of 7 specific trainings filled with tools, templates, guides, checklists, scripts and examples so you can learn exactly what's necessary to get your business turned around and working fast.
Over consuming information and unnecessary trainings will lead to "The Knowledge Over Accumulation Trap". This creates overwhelm, confusion and stagnation that will drain your time, energy and wallet.
Our condensed vault is designed to only contain the most relevant and crucial information you need to run a real business that's working for you.

Testimonials
Founder of Everlign &
The Social Made Simple System
"Working with Mike has been amazing. He helped me take my vision and inspired me  to make it real. I've learned so many subtleties about the game of branding, positioning, authority and business image.
This program is a no-brainer with lifetime access and the money-back guarantee. It's actually hard to describe until you experience it for yourself. All I can say is if you've been sitting and waiting for your business to work, I'd just take the leap of faith, you won't be disappointed."
Founder of Wisdom & Grit
Building Men To Build The World
"There are few people that have the character and care as much as Mike Young. I've been to his event and had him speak to my community on the importance of getting your business to work and making it look the part.
If you have been struggling to turn things around with your business, look no further, The Makeover Master is someone who can help you and cares enough to provide you with the support and guidance you need to win."
The ER Nurse Coach & Creator of the Cantu Coaching Method
"This program did something in 90 minutes that I'd been trying to do for the past few years! He brought all the clutter in my brain and organized it into a comprehensive strategy that simplified everything for me!
I not only had a message that began working, I had a step-by-step tactical plan on what to do. As I got stuck, I reached out for support and answers and it save me literally years of banging my head against a wall. I'm so grateful I was referred to Mike."
The 7 Training Execution Plans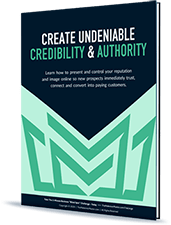 Create Undeniable Credibility & Authority
Learn how to present and control your reputation and image online so new prospects immediately trust, connect and convert into paying customers.
Decoding Your Ideal Prospects
Know your ideal prospects better than they know themselves by stepping directly inside their mind so you can consistently and effortlessly attract them into your business.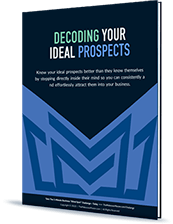 Learn how to talk about and present your business authentically in a way that creates intense emotional connection, trust and authority so others gladly buy from you and refer you consistently without you having to beg.
The Science of Persuasion
Learn the fine art of persuasion directly from a former US Marine with 10+ years of service specializing in Counterintelligence and Human Intel Extraction so you can leverage these advanced techniques to quickly and ethically turn prospects into paying clients.
How To Turn Words Into Money
Learn advanced techniques in how to structure words in a way that will increase desire, action and sales for your business. Directly taught by a living expert who's word wizardry has been partially responsible for campaigns that have made $1.6 Million in a single month, $201,300 in under 3.5 hours, $70,000+ in one day and $10,000 in 11 minutes.
Create Intuitive & Seamless Attraction System
Learn how to tap into normal human relationship progression models so you can finally stop assaulting prospects and begging for sales.
Stop Selling Start Closing
Learn how to close more business without resistance or acting like a used car salesman directly from an international speaker with 20+ years experience who's trained 10,000+ sales people in over 100+ countries and used to be Canada's #1 pharmaceutical sales rep.
Bonus #1 - Ongoing Mentoring Guidance & Support
You don't have to be confused or struggle alone ever again. As you take action on executing your strategy, it's inevitable you'll encounter new questions and obstacles. The vault provides a safe place for you to ask specific questions and get direct help from The Makeover Master.
Bonus #2 - The Starter Pack Image Makeover Design Package
It's time to stop missing out on new opportunities because things look amateur to prospects discovering you for the very first time.
Our team will help you create a fresh new look or improve your existing image so you can show up more credible and professional online.
This includes a custom logo package, presentation templates, a one-year social media makeover, additional items needed to execute your personal strategy and more!
Bonus #3 - The Business Growth & Expansion Vault
The growth and expansion vault contains additional recorded client case studies, guidance, tools, templates, scripts and examples to reduce the time it takes to figure something out so you can stay focused on attracting new clients and helping more people with your business.
The 24 Hour Strategy Session
100% Money Back Guarantee
Let the Makeover Master take all of the risk out of the equation for you with his AFTER strategy session guarantee.
You heard that right!
If you purchase The Mentorship Makeover Business Growth System and you're not absolutely blown away with your results AFTER the A$AP Strategy Session (a one-to-one recorded strategy meeting with Mike Young, The Makeover Master), simply ask for your money back right on the spot and you'll be refunded with no questions asked.
We are so confident you'll be more than satisfied with your initial session and you'll want to continue to receive your documented execution plan, all of the foundational trainings and content, access to the vault, the design bonuses as well as the ongoing mentorship and support.
LIFETIME VAULT ACCESS - GUARANTEED
As long as you pay in full or complete your agreement on the 12-month payment option you'll have lifetime access to the program and any additional materials and upgrades we choose to include in the future. You'll also have access to continuing mentorship and ongoing support from The Makeover Master and his team.
Two Payment Options Available
*** The 12-Month Financing Option Must Be Completed In Full To Get Lifetime Access***

Testimonials
Founder of Funnel Kitchen &
Online Course Success Secrets
"I'm in the industry of helping others build successful online courses and I'm amazed with Mike's ability to take complex concepts and break them down into plain English.
He is one of the most caring and knowledgable people I've had the pleasure to work alongside, he's like a wizard. He can see things I would have not been able to see on my own. Don't wait, work with him!"
Founder of Podcast Genie &
Host of the "Own Your Success" Podcast
"I'd been following Mike for a while and had helped get him on a few podcasts. He's one of those rare people that adds way more value than he takes and he showed me several strategies that have all worked with my business.
Before I worked with him, my offer wasn't converting on a consistent basis and my business was always up and down. I'm so glad we recorded our strategy session because he's simply amazing with a crazy amount of knowledge."
Social Media Coach &
Founder of Flow State Social
"It's hard to put into words what working with Mike has meant to me and my business. I met him at an event he spoke at and opened in Cabo San Lucas Mexico.
I knew I had to invest and do whatever it took to work side-by-side with him and boy am I glad I did. I've never found anyone like him who took the time to get to know about what I was trying to do in the way he does. Our first strategy session together blew my mind. This program is insane!"
CEO of the Angela Herem Website Development Agency
"I went to The Makeover Master event in Scottsdale, AZ in 2019. Let me just say that I've never met anyone who's given so much value away or helped me understand how to run my business and brand strategy on such a strategic level.
Every time I feel stuck, I ask Mike and he continues to blow me away with his vast understanding of the stage I'm at and what I need to do to break through. He always understands how I feel and has instant answers to my questions. He's amazing."
Social Media Wiz &
Online Marketing Expert
"I was already having heaps of success with my business when I hired Mike. It's hard to put into words how I felt after our very first meeting together.
I guess it felt like this perfect storm of excited, scared, nervous and I had more clarity than I'd ever had before about what I needed to do next and the direction I could take the business. A year later I still haven't implemented everything from our original strategy session and my business has never looked down or back since. This dude is one of the great ones!"
Business Manager For
The Angie Tumlinson Brand
"After 5 previous attempts to nail my wife's website and branding. I was tired and frustrated that the "professionals" trying to help us were not really listening and not truly hearing us nor helping us navigate through our uncertainties.
Mike has a gentle calming spirit and his wisdom and desire to really get to know us - all helped me to feel at ease and instantaneously relax into the process and he listened - he really listened.
I was totally impressed and blown away with Mike's professionalism, wisdom, kindness, thoroughness and abilities. He went above and beyond to ensure that we finally got the help and guidance we needed!"
Founder of JetLaunch
Super Fast Book Design & Marketing
"I was excited and took fast action after my strategy session with Mike on one of the ideas, which I would have never thought of on my own.
It nearly doubled the revenue for my company in less than 100 days. This program has changed the course of my business for many, many years to come! He's the real deal and his ongoing support and level of care is truly invaluable."
Author  |  Speaker  |  Coach
Helping Authors Have Success
"I met Mike in a Facebook group in 2015 and he helped me with my PDF lead magnet of all things. Who knew just a few years later I'd help him write, publish and launch his first book!
I've not only had the pleasure to work with Mike throughout the years on my own brand strategy and websites, but he's one of the most transparent and caring entrepreneurs on the planet. For real, I mean that, the empathy he has for others is off the charts."
Founder of The "Awaken The Fighter Inside 5-Day Challenge" & TFC Program
"I've been able to watch Mike's skyrocket growth over the past few years inside Mitch Miller's highest level mastermind program, The Dark Horse Council.
His passion, drive, knowledge and understanding on many levels continues to impress me. Combine that with his amazing ability to connect the dots for others with a level of care I've never seen in any other online course or program before (besides my own). Hire The Makeover Master today and begin to win tomorrow with your business."
Founder of Soul Purpose - A Non-Profit Organization Helping Troubled Youth
"I thought I needed a new logo and website and I'd been following Mike for a while after hearing him talk on a podcast. Holy shit!
It was like he was inside my head and knew exactly how I felt right from the very start. Probably because he's the real deal and has already done what I was trying to do with my business. If you are even hesitating on this program, don't, you've got nothing to lose and your strategy session may fry your mind! It did mine."
Chiropractor, Doctor &
The Guy Who Fixes What Others Can't
"I spent a decade and a half in my own schooling to become an expert at what I do. But trying to learn the online marketing, advertising and copywriting game felt overwhelming to me.
I was doing too many things, posting, social media while also running my practice with a wife and kids to boot. Mike put everything into a strategy that cut my hours by 90% and I got instant answers to my questions instead of hoping to find the right one through Google."
Funnel Expert Builder &
Founder of Ultimate Social Warfare 
"Life. Changing. Program.
Over 3 years of learning and spending tens of thousands of dollars I have never been clearer about my strategy and my own business in just 2 calls with The Makeover Master!
It's insane how quickly things have changed in my business and life thanks to the mentorship program and working directly with Mike.
If your business is stuck, The Makeover Master is your answer. The side-by-side help and support along with the recorded learnings have changed the game for me forever."
The Business Psychic &
Host of "The Carrie Cardozo Podcast"
"I've known Mike since 2015 and his level of compassion to help others win is on another level. Last year I worked directly on my brand strategy, website and launch my new podcast with his help.
If you've been looking for answers and wanting some direct help and step-by-step guidance, look no more, The Makeover Master is what you need. Take that leap of faith, you'll be glad you did!"
Social Media Expert &
Host of the "Social Made Simple" Podcast 
"It's hard to describe how powerful the first strategy session is with Mike. I've worked with many other coaches and "gurus" before and I've helped tons of people with what I can do, but I could never seem to crack the code for myself.
In less than 90 minutes, he was able to break things down for me so understood some of the limiting beliefs holding me back. In less than 30 days, I had 4 new paying clients using the strategies he gave me to implement."
Digital Marketing Expert & 
Host of the "Binding Authority" Podcast
"I reached out to Mike for some advice when COVID-19 first hit. I'd lost focus on what to do and everything felt like it was falling apart. The best decision ever!
It seems unreal to wake up on the wrong side of the bed with fear and wondering if this virus was going kill my business and then by the end of the day having 2 new partnerships and 3 deals using the strategy he gave me. I'll forever has Mike's back for what he did that day for me."
Founder of Vidya Yoga & Creator of the Bend Don't Break Method
"It took me nearly a week to process all of the gold in our first strategy session together. Mike showed me the power of my story and helped me understand how to tie it all together into a strategy that made sense.
I was referred to The Makeover Master from one of my very good friends in the online space and working with Mike has fundamentally change how I think about and run my business online. "
Health & Fitness Expert &
Founder of "More MandyP"
"I call Mike my favorite unicorn. His vast knowledge and expertise, combined with his own 15+ years of trial and error has created a brilliant program.
It's hard to describe what it feels like to try so hard to figure all this stuff out with positioning, authority, branding, copy, and more. Yet I still found myself stuck and frustrated before hiring The Makeover Master. He's not only the most caring mentor I've ever had, he's just simply amazing at what he does and the process he puts you through. Buy this program and you won't regret it!"
Author, Podcast Host & Founder of "Unleash The Leader Within"

"I took the leap of faith on investing in Mike's makeover experience. I'm so glad I did and the only thing I can say to others is that it's truly an experience I won't forget.
I came to a much deeper understanding of myself, my ideal clients and how I deliver value to them throughout this process. I now know exactly what I'm executing on and have no doubt that this year will 10x my results!
If you are lucky enough to work along side Mike and his team, you'll see exactly what I mean. Don't hesitate to get into this program before he comes to his senses on the price!"