GET 5 NEW INSIGHTS & STRATEGIC ADVICE IN JUST 5 MINUTES...
*** No Call or Direct Contact Necessary ***

SIMPLY SEND IN YOUR SOCIAL MEDIA & WEBSITE
And based on what I see, I'll send back a personalized video with 5 new insights and strategies to help you get more leads, sales, and business success.





It's the number one challenge business owners face when things aren't really working and sales are slow... You don't know the REAL reasons why and aren't sure what needs to be fixed in order to turn things around fast.
The Classic Symptoms And Warning Signs Are All There…

Acquiring new leads for the business is inconsistent at best.

Making sales and getting new customers feels like a constant battle.

People don't engage with your posting and largely seem to ignore your message and offers.

The majority of sales calls end with a "let me think about it and get back to you", but then they ghost you

If things don't change fast, the business will join the ranks of those that didn't survive past the first few years and become a lonely statistic and you'll be off to work for someone else in a traditional 9 to 5 job.

It's frustrating to be so close to it all and know something needs to be fixed, but yet the real issues feel invisible and illusive, like not being able to see the forest through the trees.
If that's you, i'd like to help you begin fixing it today.
100% free, no catch, no cost.
After conducting thousands of reviews and evaluations, our team has discovered the 4 most common underlying issues that are consistently costing entrepreneurs and business owners new leads, sales and ultimately, the business success they desperately want.
These blind spots are hidden in plain site, right in front of you, scattered throughout your social media presence and on directly on your website.
* THIS IS NOT some lame automated quiz or survey which provides little to no value.
** THIS IS a personalized evaluation of your business conducted directly by The Makeover Master.
*** Spots are VERY LIMITED and my waiting list can get quite long, sign up today to get yours free of charge.

Discover The 4 Most Common Underlying Issues Costing You Leads and Sales

Get 5 New Insights & Strategic Advice In Just 5-Minutes

Personalized Insight and Advice On What To Fix To Increase Leads and Sales - Starting Today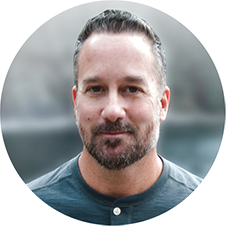 BECAUSE I'VE BEEN EXACTLY WHERE YOU ARE AT TODAY.
I spent nearly 8.5 years there, feeling frustrated, confused and stuck. I invested a ton of money into figuring out why it wasn't working, before it finally did.
The good news is I know exactly how to help you and it doesn't have to take that long or cost you nearly as much as it did for me.
Over the past 15 years, I've been interviewed over a hundred times on radio shows or podcasts, twice on TV, travelled around the world to learn from and advise some of the very best experts in the field of marketing and business strategy.
I've written a book, hosted my own podcast, held countless private workshops and events, and have reviewed thousands of businesses.
Every time I sit down with someone to help, they are blown away by my ability to show them the light.
Providing them with insights they say "Never would have figured this out alone."
You can see just a few of our clients and their breakthroughs for yourself throughout our website.
What I can tell you today for sure is this…
One PERSONALIZED piece of insight from an expert can completely change things… in an instant.
I want you to have that feeling today.
If your business isn't working and you want to figure out exactly why, take me up on...
5-Minutes Of Mentoring
With The makeover Master

Get 5 New Insights & Strategic Advice In Just 5-Minutes
*No Call Or Direct Contact Necessary*

Discover The 4 Most Common Underlying Issues
Costing You Leads and Sales
As you can imagine, after doing a review, some people want me to personally help them move forward in their business, so these reviews are a great way for new clients to find out about me.
I also consider it my life's work and duty to help others avoid the hellish 8.5 years of debt, pain, and growing pains… and the $200,000+ I spent buying every book and course I could afford, traveling to every seminar and event imaginable trying to get my business to work before it finally did.
When all I needed was a little personalized advice...
Press the button below to put your name on the list for your very own
5-Minutes Of Mentoring with The Makeover Master.
You'll want to sign up now. This service is popular, free, and likely part time for me, it's for those reasons, the waiting list can get quite long.

WHAT OTHERS ARE SAYING...

BLINDSPOT BREAKTHROUGHS...
Thank you so much!
You inspired me today and gave me hope again that my business can work.
This review gave me so much clarity on where I can go from here and exactly what I need to fix starting today. I felt lost before this review, thank you for changing that!
What a privilege to get such expert advice in only a few minutes! 
Your honest advice helped me see things I don't think I ever would have seen or thought about on my own. I now have a very clear plan on what I need to do and fix to take my business to the next level from here.
Grateful for you Mike!
I got so much value in my 5-Minute business blindspot review that I knew I needed to work directly with The Makeover Master to speed things up!
Mike is the most brilliant and caring mentor I've ever had, and I've worked with a ton of business coaches in the past.
Take advantage of this offer while it's still free!

WHAT OTHERS ARE SAYING...